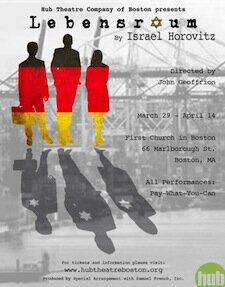 I usually don't get that excited about new groups appearing on the Boston fringe scene. There's a part of me that fears too many people (or egos) trying to do their own thing only strains a finite number a resources and pits companies against each other for what is a limited audience. But I walked out of Hub Theatre Company's production of Lebensraum extraordinarily happy to have encountered this new group.
Now, even with their pay-what-you-can ticket policy and non-traditional digs at Boston's First Church, I wouldn't say they're breaking the mold. Unconventional spaces can be uncomfortable and, when it comes to the "financial barriers" to theater, I'm much happier to just pay than have the arm put on me. (I do pay for tickets often and put my money where my mouth is as much as I can.) On top of that, I think there's a danger to fringe companies competing towards a zero dollar ticket, when they are putting on good work that's never free to produce. Anyways, if there's one financial hindrance in Boston to getting people into shows, it's probably the BCA box office fee.
What Hub Theatre does have going for itself is a technical savviness that's too often missing from Boston's smaller shows. Their Lebensraum was tight and captivating. Of course, the Israel Horovitz's play is well structured and laden with all sorts of cleverness, but Director John Geoffrion's production shook out every fragment of satire, comedy, and drama. He and his cast of three kept a pace that would put them in the lead in the Marathon on Monday, never falling into awkward, poorly constructed or redundant sequences. It's solid structure that makes good, accessible art great; from Middlemarch to episodes of Cheers. Lebensraum has that and, more importantly, Geoffrion gets it.
Horovitz's plot relishes its details, but in short it imagines a future where a German Chancellor makes a public call to the world for six million Jews to "come home" to Germany. Controversy ensues. German workers fear for their jobs (and daughters). Israeli militants plan an infiltration, believing this international "apology" is only a ruse to begin a second holocaust. Beginning with journalistic narration's of neo-nazi's being trampled and rabis being strangled, Horovitz provides a wonderfully descriptive chain of events involving dozens of characters. Slowly, he shifts from these mock-journalistic vignettes as the main characters are teased out, and suddenly, it doesn't really matter that everything is made up. Bigger issues like retribution, corruption, love, and hope come to bear. While this fictional future revolves around intentionally absurd imagined events, that very real past is explored through well crafted personal stories.
Actors Jamie Carrillo, Lauren Elias, and Kevin Paquette wear a lot of different hats. I'm being literal here. The set isn't much more than a couple coat racks strewn with arm fulls of prop-costumes to let them shift in and out of Horovitz's dozens of interconnected characters. Carrillo and Elias are excellent as they become the Romeo & Juliet of this new Germany and Horovitz begins to warp not just politics, but dramatic cliches as the play culminates in a series of very clever contrivances.
I'm looking forward to more from Hub Theatre, particularly a show about Anne Hutchinson in the fall called Goodly Creatures.